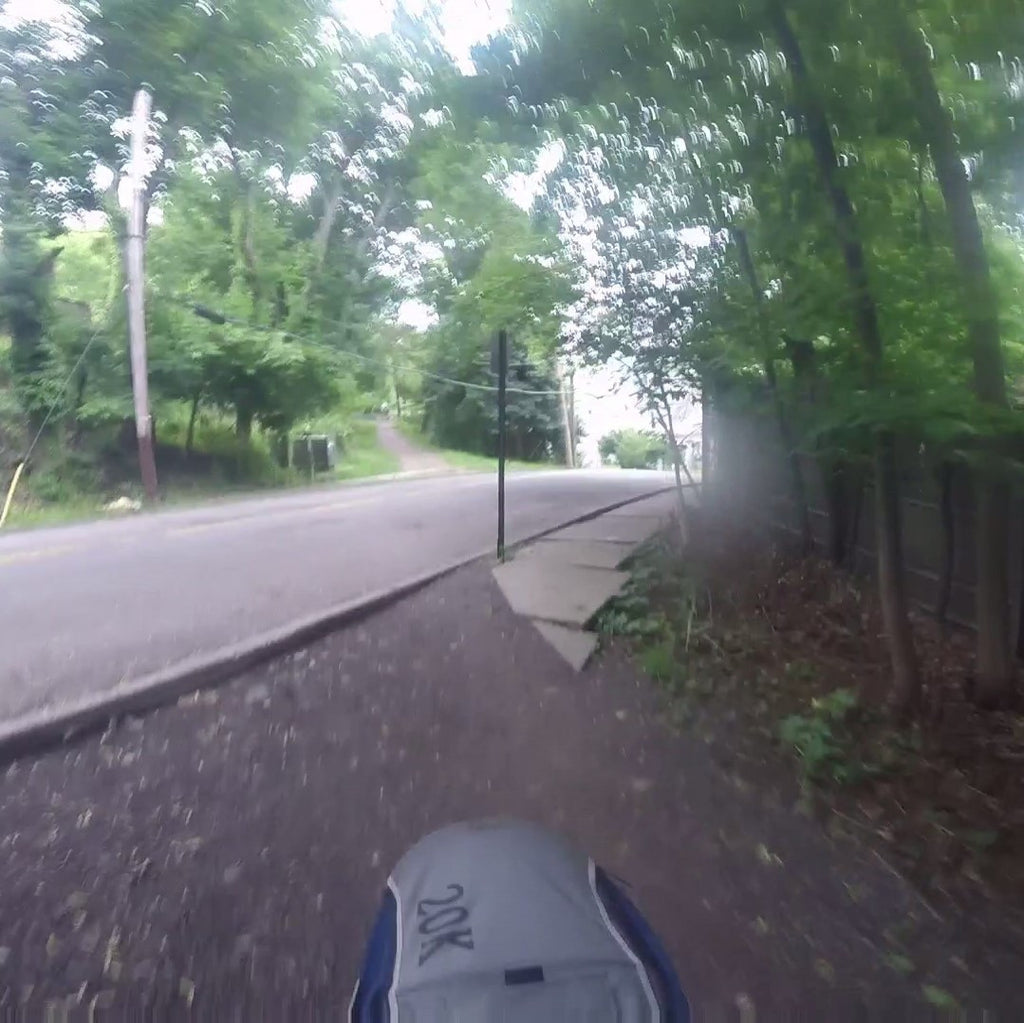 The Jogging Jeweler
|OCA + Curbs + No Crosswalk = HOH |
On a recent run through Dobbs Ferry and Hastings-On-Hudson we ventured down the Old Croton Aqueduct by crossing Route 9 in Dobbs and traversing the trail south into Hastings. It took gingerly balancing my jogging stroller over that first curb to remember "oh yeah, there's the reason why we never run this way".
As previously stated in Blog #11 Hastings-On-Hudson has got some major curb issues - meaning there are crosswalks and crossing, such as those along the Old Croton Aqueduct, that are not easily traversed for handicap, strollers, bicyclists, or folks pulling luggage as they walk up from the train. 
Nearly every intersection throughout Hastings-On-Hudson that the Old Croton Aqueduct passes through has a curb making the trail 100% avoided by someone like myself who runs while pushing a child in my stroller. She's used to the light jostling and me calling out "bumpy bumpy" for when an area is worse for wear, but curbs - those are a bit more noggin' knocking when at a clip faster than a casual walk. 
Who We Gonna Call?
Ghost Busters :-D May be easier to call them, but the Old Croton Aqueduct is a New York State Park which means we need to be squeaky wheels to get the large ol' state of New York's attention. We can write the below people letters or emails, call them, write letters to the Editor for the Rivertowns Enterprise, or other local publications to draw attention to the fact that our historic park could use some TLC.
The Old Croton Aqueduct is in the Taconic Region of NYS Parks. The following are representatives listed under Taconic Region:
Lucy R. Waletzky, Chair
Jane Alexander
Arthur Gellert
Randall Fleischer
William Mooney
Ralph O'Dell
Frederick Osborn
Edgar Masters
Taconic Regional Office
P.O. Box 308
Staatsburg, NY 12580
Phone: (845) 889-4100
View Regional Map
 What else can you do?
On Twitter? Follow Nita Lowey (@NitaLowey) or Eliot Engel (@RepEliotEngel)- send them a link to The Jogging Jeweler Blog, Youtube Video, Photo, or Facebook Post of your choice AND state why it's important to you that they help us address the safety concerns along Route 9 as well as the Old Croton Aqueduct prior to the New Bridge opening.  
On Facebook? Follow Westchester County Board of Legislators - This will help you figure out which Legislators covers your area. Ardsley, Dobbs Ferry, Irvington, & Hastings are covered by Mary Jane Shimsky. Shimsky chairs the Committee on Infrastructure, is on the Committee of Transportation & Public Work, as well as NYS/ National Transportation Steering Committee, & is a member of the the NYS Mass Transit Taskforce (behind the New Bridge - and all the Route 9 stuff). 
Comment, Share, & Like! The more JJ readers sending in problem photos, sharing stories of their experiences, suggesting solutions, or asking questions about the blog creates a larger dialogue for all of our communities to participate in.