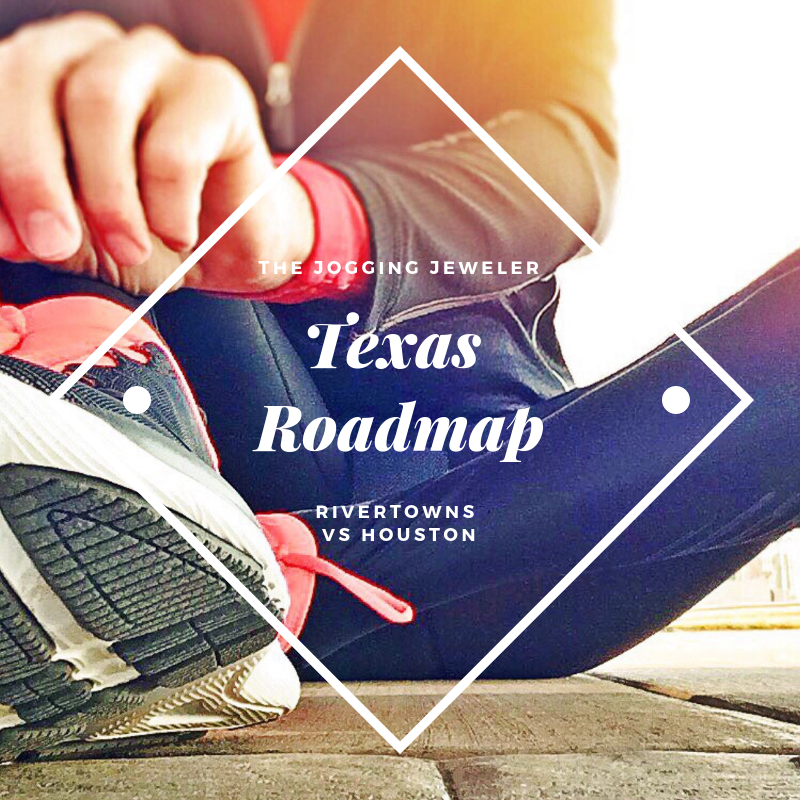 It's been a good six months since my last blog post as The Jogging Jeweler. A move cross the country with not just my family, but my business as well, has kept me a bit busy. 
Return of the Mags
This past Thanksgiving break was our first return to Empire State since our move in July. While those 10 days were amazing, they were incredibly exhausting, and brought me back to Texas with my tail between my legs. It took me nearly two weeks to wring out my liver, bring myself back from the edge of gout, and accomplish a full 8 hours of sleep. Being back in the energy, lifestyle, and old ways of New York made me realize how much I need and appreciate the routine of this life, the one I have chosen in Texas. From my mattress to my workout routines, smoothies, and Pilates classes. My choices impact how I feel moving in this body, but also inside my own head. 
Running is a lot like life, some runs are amazing. Others make you feel awful at first, but accomplished later. While some runs bring up the emotionally unexpected. So, while The Jogging Jeweler made a significant impact in the Rivertowns as a blog about pedestrian and infrastructure issues it will not be the only path I chose. The Jogging Jeweler won't just be about life as a pedestrian in a world of cars, but being an active participant with choices. 
But first....The Rivertowns
During our 10 days, we spent five nights in Manhattan at The Nomad Hotel (our fav). Leaving The Nomad, located at 1076 Broadway driving north to the Broadway I know so well, ran, and lived on was a reel of flashbacks of my last five years. However, that reel abruptly cut as we drove past the 5-corners in Hastings-On-Hudson.....Route 9 is ONE LANE!
Imagine a giraffe doing cartwheels, and that's me when I saw the solid white line merge over. For all the anti-change sentiment, online good-for-nothing, lifeless trolls, near miss accidents, hours of editing videos, meetings, emails, research - THIS is why I started this blog! Rivertowns - YOU - did it! I've received updates on other improvements such as crosswalks enhancements, school speed zones (Dobbs - YES!), and one way streets. 
I know there were many citizens, local representatives, law enforcement, and state reps working on this matter, but #winning 
Now, about HTX
What's the Jogging Jeweler going to do in a new state? How am I going to find my audience in TEXAS? Do they need me? Do I want the Jogging Jeweler in this life I have? What civil service can I provide my new community? Who is my new community? I still have so many questions for myself regarding this blog. 
To answer the above questions - it took me 6 months, and I am still slightly unsure, but I do want to continue and see where it takes me. Upon arriving to HTX I took 6 weeks off of running and working out. I wanted to start with a blank slate, and leave all my workout baggage behind. When I began working out again, I tried new things...
To be continued....
Maggie Segrich

blog, dobbs ferry, Houston, Houston Heights, hudson life, hudson river, hudson valley, Irvington, mom boss, mom life, momprenuer, New York, Old Croton Aqueduct, rivertowns, runner, running, Texas, the jogging jeweler, upstate new york, westchester