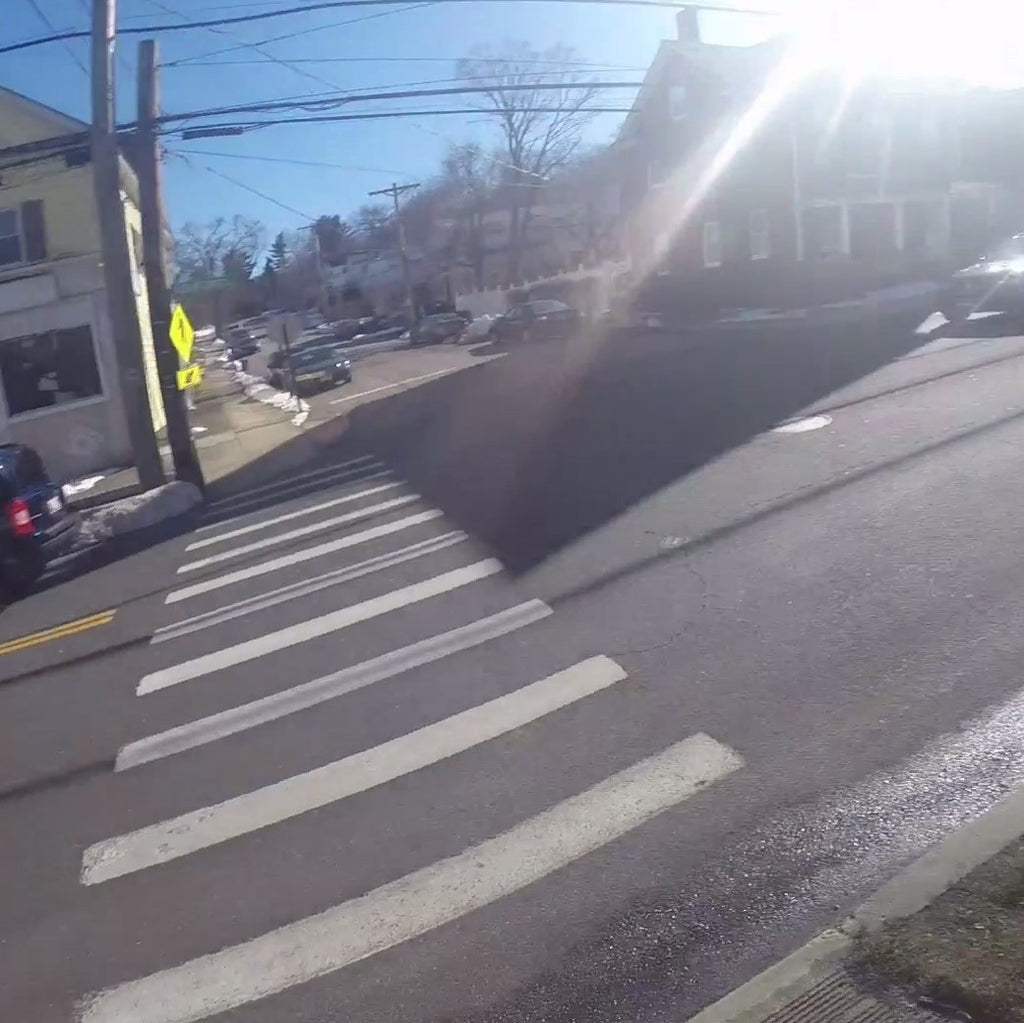 The Jogging Jeweler
| Ashford Ave & Ogden Place |
At the request of a reader we traveled up Ashford Ave and down Ogden to capture what traveling is like for a pedestrian in this area of Dobbs Ferry. As you witness in the video above - we are counting cars again...10 cars pass without stopping. 
I went to a meeting recently and brought up The Jogging Jeweler blog, an attendee in the meeting asked -
"When do cars legally have to stop for a pedestrian in a crosswalk?"
Answer: When you are in the crosswalk. Which means, especially for local crosswalks, stepping out into the street to be physically in the crosswalk. Which as you can see in the above video located on Ashford Avenue that crosswalk is not exactly a safe spot to stand hoping drivers will 1. see you, 2. slow down, and/or 3. stop to let you cross. 
What does the law say?
S 1151. Pedestrians` right of way in crosswalks. (a) When traffic-control signals are not in place or not in operation the driver of a vehicle shall yield the right of way, slowing down or stopping if need be to so yield, to a pedestrian crossing the roadway within a crosswalk on the roadway upon which the vehicle is traveling, except that any pedestrian crossing a roadway at a point where a pedestrian tunnel or overpass has been provided shall yield the right of way to all vehicles. (b) No pedestrian shall suddenly leave a curb or other place of safety and walk or run into the path of a vehicle which is so close that it is impractical for the driver to yield. (c) Whenever any vehicle is stopped at a marked crosswalk or at any unmarked crosswalk at an intersection to permit a pedestrian to cross the roadway, the driver of any other vehicle approaching from the rear shall not overtake and pass such stopped vehicle
Catch-22 
Drivers - know they have to stop for you if you are in the crosswalk. 
Pedestrians - aren't always feeling the warm and fuzzy safety net of a poorly placed crosswalk, whether its due to blind spots, the sun, or a narrow road with no where safe to stand in the actual crosswalk. 
So - what do we do? Well it's a "fine line" as one local law enforcement official that I spoke with said. Stepping off the curb, activating your use of the crosswalk is figuratively and literally - the first step. After that, it's between you and the driver - pay attention, take your ear buds out, and when someone finally stops, take into consideration waving and saying "thank you". Maybe they'll notice your graciousness and be more apt to stopping again for future pedestrians at that location. 
Did you see that?
"the driver of any other vehicle approaching from the rear shall not overtake and pass such stopped vehicle"
I witness this so much at the intersection of Broadway & Clinton/Oak. I have also had to lay on my horn on Broadway in front of the high school because I stopped for a pedestrian and the vehicle behind me is about to swerve around me, not seeing the pedestrian and the pedestrian not seeing them. 
It's not a race to your destination folks - its life, you'll be okay if you're late. Being late is such a typical New Yorker thing that I've finally, after 9 years of living here started to show up late myself because I know everyone else won't be there.