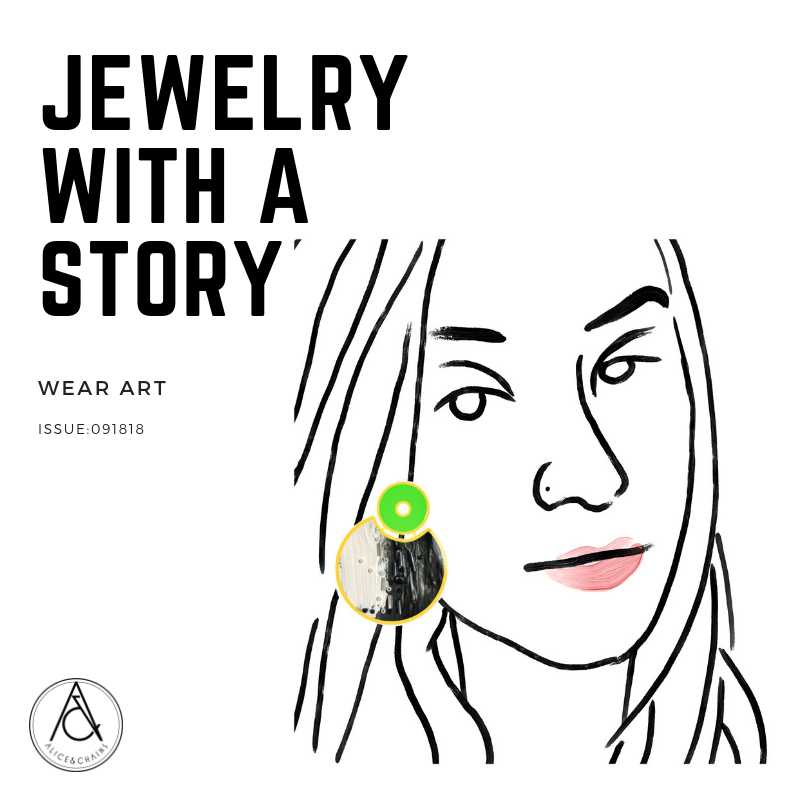 Wear Art is a new couture collection made in collaboration with Monica Shulman, an abstract expressionist painter and fine art photographer located in Dobbs Ferry, NY. 
We-ar(e) Art
We adorn the walls of our homes with art and our bodies with jewelry. So, the collision of art and jewelry in my mind seems natural. I mean do I believe jewelry itself is art - others may disagree. Anyways! I approached Monica Shulman with the crazy idea of using her art to create a couture jewelry collection. And, she said yes! 
So - what did she do? Gave me three paintings...OMG no pressure!
And, what did I do? Cut-them-to-pieces! gasp...
We settled on a few initial designs - a variety of light-weight, statement earrings and a tribal necklace. Each piece that was cut out has been hand-embellished with an assortment of beads. 
Now what?!
The pieces are currently in production, and a limited run are expected to be ready this fall - squeak!! They'll be cast in Sterling Silver and plated with Rhodium, yellow Gold, or rose Gold.
Sample pieces, production processes, and renderings can all be seen on my Instagram feed, stories & TV!
Annndddd... we've submitted the collection for a Runway Show at Alt Summit Oasis. So guess what the includes??? YOUR HELP!! We've made it past the inital round, and to actually be considered for the runway show we need VOTES!!
Get Us to The Summit!
Register - I recommend using your Facebook to do this part.
Check email for confirmation, otherwise it won't let you vote.
Select RUNWAY
Scroll until you see - Jewelry is Art - Wear Art
Click & VOTE!!
Sharing is caring - Send it to your momma, favorite fashionista, sister, brother, and all yo' friends! 
Maggie Segrich