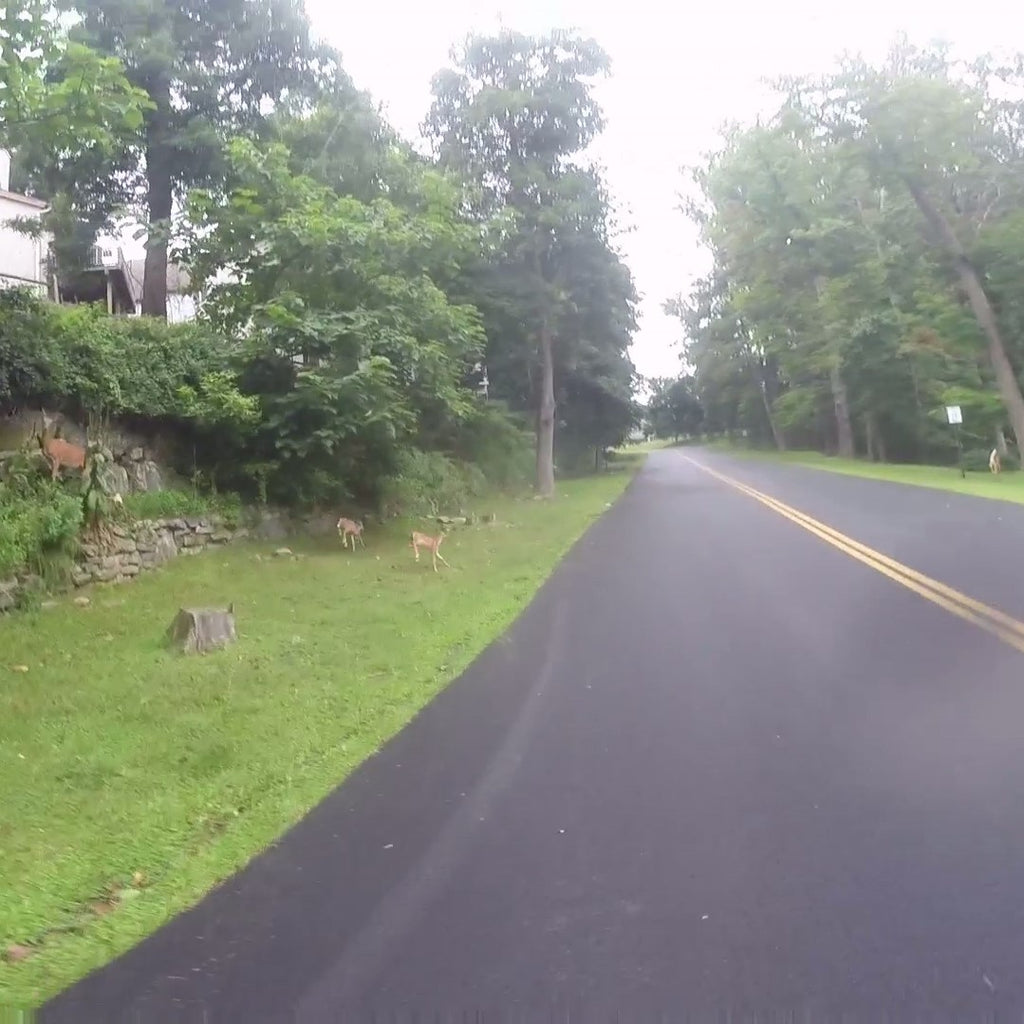 The Jogging Jeweler #38
| A Deer Dilemma |
The Jogging Jeweler typically writes about pedestrian and traffic safety, however on my most recent run was one of the most natural of surprises - a mother deer with her young....Not 1! Not 2! BUT 3 baby fawns accompanied this mother. 
What does this mean?
This means their natural habit - our backyards, gardens, schools, and parks is an AMAZING & thriving environment for them. So much so that they are able to feed and provide safety for multiple offspring with each birthing season. 
What is the Dilemma?
Well - much like here in the Rivertowns, back in the Midwest where I grew up deer populations, when out of control are incredibly destructive to vegetation. Farmers knowingly deduct the first 2-10 rows of any field from their harvest yields as that's how much the deer can eat. 
BUT....
For us sub-urban dwellers these deer pose a much bigger threat, one that was recently demonstrate when I picked up my daughter from the sitter this past summer. An 18-month old at the sitter's was covered in marks. Had one of the kids bitten him? No. Did he have ringworm? No...He had Lymes Disease. 
Deer carry ticks. They come into our gardens, yards, parks, playgrounds and the ticks fall off - bringing diseases such a Lyme, literally, to our door. 
What can we do?
Four Posters - Fire Island is well-known for their approach to limiting the deer population, vegetation, and ticks carried by the deer. Fire Island has created a feeding system for the deer that is surrounded by large rollers treated with a pesticide.(Read more) When the deer insert their hungry little heads between the rollers to eat, the rollers apply a pesticide similar to Frontline for our dogs and cats to the deer, killing their existing ticks and preventing new ones from getting a free ride. 
Tick Tubes -  Cardboard, bio-degradable tubes, filled with cotton balls that are soaked in a synethic version of a naturally occurring tick repellent that is toxic to ticks but not mammals. Tubes are placed at homes throughout neighborhoods for mice, whom the ticks contract Lyme's from, to collect the cotton balls for nest building. Ticks then feed on the mice, ingesting the toxin and dying. Never getting the chance to free-ride on a deer and enter areas that we frequent.(Read more)
Deer birth control - They capture the deer, shoot them with birth control, release them and then dart them again in two years time to re-up the dosage. Locals can help track the immunized does via the link provided. (Read more)
Culling - They target a certain location and position a bow hunter to strike the deer dead (with hopefully one shot). Not a fan of this idea in our immediate local areas - high density population with high traffic of people, kids, vehicles, etc. (Read more)
Moving to the suburbs and dealing with nature is part of the package. Whether they are deer, skunks, coons, possums, squirrels, turkey, coyotes, woodchucks, etc. We're the smarter species, we can most certainly figure out a way to live together without killing one another ;-)
Did you know?
Deer mate Sept-Nov, gestation lasts 7.5 months through the winter. Fawns are born May-June, hence why we are are seeing them out and about now. 
Female deer with multiples may carry off-spring from different males. 
Ticks contract Lyme's from mice, deer are the public transit for ticks.
The following is a list provided by the CDC of diseases carried by ticks: